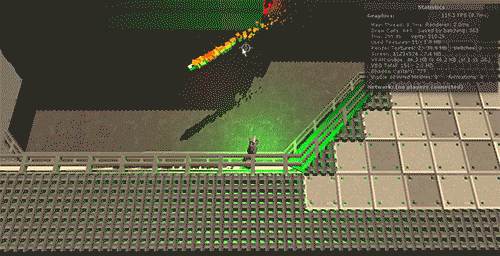 +Andrew Sandifer challenged me and +Yuuki Rus to a Christmas Game Jam, which kinda turned into a New Years Game Jam, because that's how stuff works.
The idea was that we'd have 1 day to complete game 1. 2 days to complete game 2, and so on until New Years.
This was our 1-day game, which has had 3 days of off and on development put into it because RULES DON'T OWN ME.
I'll be releasing it soon. I want to say tonight but real life won't stop getting in the way. I have 2-3 more games to do before New Years, and I'll be recording development.
Right now I have something like 14 hours of footage, and none of it seems interesting to me. I'll probably speed it up 20x and just do a timelapse, even though that seems even LESS interesting.
I should mention that the game is some kind of mix between Sonic, Contra, and generic robots.
Update: Still need to fix UI. I haven't eaten all day and I'm tired. Here's another gif – with sexy dance added bonus!